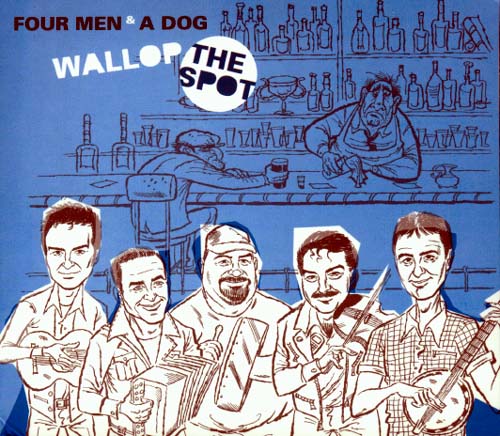 WALLOP THE SPOT - FOUR MEN & A DOG
Woodstock Records
Ireland's most exciting ensemble Four Men & A Dog are currently enjoying the zenith of their careers. The thirteen tracks include deliciously arranged Jigs and Reels, spicy Polkas - a smorgasbord of traditional Irish tunes and stunning songs.
Four Men & A Dog, ( Cathal Hayden, Jerry O'Connor, Kevin Doherty & Gino Lupari) have been whipping up a storm worldwide, bringing music to the masses through their energetic stage performances. Wallop The Spot is a must have for all fans of this award-winning band.
---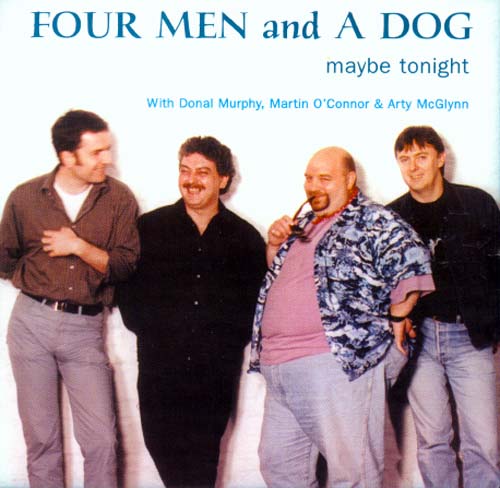 MAYBE TONIGHT - FOUR MEN & A DOG
Woodstock Records
Eclectic, inventive, multi-layered and a lot of good fun, this CD sees Four Men & A Dog at their rumbustious best. Traditional Irish to Country to hard nose Boogie. The magic's not just in the tunes but conjured from a range of influences from both sides of the Atlantic, and the tracks feature top-notch musicianship and guest performances. Tunes from the Old World, songs from the New Paddy's rockin' as well as rambling - Once again The Dogs are off the leash and still out there with the very best.
---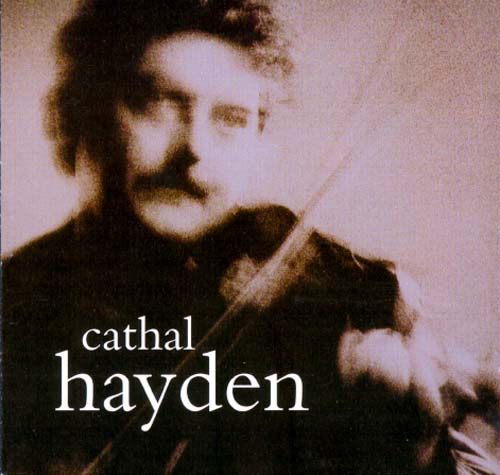 CATHAL HAYDEN
Woodstock Records
One of Ireland's finest traditional musicians, fiddle player Cathal Hayden's talent coupled with his technical skill and feel for the music he plays, results in an outstanding CD of Reels, Jigs, Slides and more. His fiery virtuoso fiddle style is apparent throughout and his banjo playing skills can be found on many tracks also. The verve and excitement throughout these songs make his debut CD one of the finest collections of traditional fiddle music ever heard!
---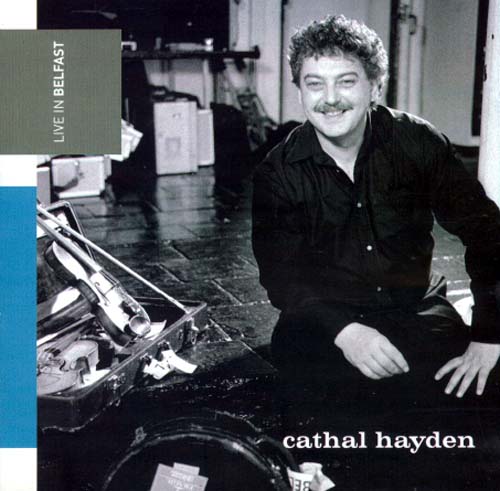 LIVE IN BELFAST - CATHAL HAYDEN
Woodstock Records
A live recording at the Open House Festival in Belfast - the stunning fiddler Cathal Hayden (of 4 Men And A Dog fame) is joined by a host of other top musicians for a feast of great music to honor Cathal for the role he has played in traditional Irish music.
Cathal is a master player, a main feature on many albums either as star or support. The opening fiddle reels should certainly tickle the taste buds and there are another 14 like it right behind. So go for the feast, go for the feast!!
Featuring Cathal on Banjo and Fiddle, along with Arty McGlynn, guitar, Alan Kelly, accordion, Liam Bradley, percussion, Mairtin O'Connor, accordion, Micheal O'Domhnaill, guitar & vocal and Matt Molloy on flute.
Brilliant playing by Cathal and many stars join the show:
Gerry O'Connor, Kevin Doherty ,Gino Lupari, Brendan O'Rega, Stephen Hatden, Brian McGrath, Eamon McElholm, Mark Mohan, Gerry Lappin.
---
STRANGE WEATHER - KEVIN DOHERTY
Woodstock Records
Irish singer songwriter Kevin Doherty is a veteran of the European music folk rock scene and has recorded and toured as a member of the group Four Men & A Dog. Kevin released this solo debut CD "STRANGE WEATHER" with all original music and lyrics that are infused with influences that are primarily American. Doherty has crafted a handful of great songs produced by Aaron "Professor Louie" Hurwitz and featuring, on a few tunes, member of The Band, Rick Danko. The playing is top notch with many special guests as Doherty sings, plays guitar and a bit of harmonica. "Strange Weather" has garnered critical acclaim and airplay in Japan & Europe.
---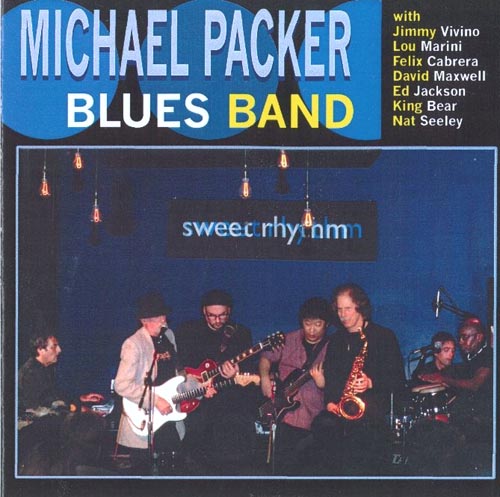 Michael Packer Blues Band
"Live At Sweet Rhythm"
Woodstock Records
Singer, songwriter & guitarist Michael Packer knows the blues. He has lived the blues. Born in New York City in 1950, he did his first professional gig at the Bitter End in Greenwich Village at the age of 15. Packer formed the group "Papa Nebo" and was signed to Atlantic Records in 1970. After releasing an album and touring the Northeast, the band eventually broke up with a few members going on to successful solo careers such as Bob Mintzer, saxophonist for the Yellowjackets and Ann Leathers, violinist for Lyle Lovett, Elton John to name a few.

Michael Packer then took his sound to the west coast, playing on the streets of San Francisco during the day and in the coffee houses at night. There, he met George Thorogood, who turned him on to the blues. Eventually, Packer made his way back to New York and hooked up another project, Free Beer. The group had a good deal of success with albums on RCA Records which all hit the Billboard charts. They toured constantly opening for such headliners as Dr. Hook and The Medicine Show, Johnny Rivers, Atlanta Rhythm Section and many more. But as it seems to go in the music world, good things don't last forever and despite the success, Free Beer broke up. In the 80's, Michael Packer opened for various blues artists such as John Hammond, Paul Butterfield and Son Seals.

Today, Packer continues to perform and record with his group the Michael Packer Blues Band. He has released four CD's. The latest CD "Live @ Sweet Rhythm" has received rave reviews from Blues Revue, Living Blues and Blues Matters (UK) magazines. The band continues to tour and has been receiving radio airplay across the nation and Europe.