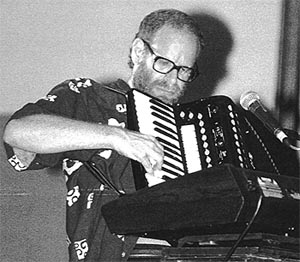 "Professor Louie
on Accordion"
In many ways, the release of Aaron "Professor Louie" Hurwitz, forthcoming album with The Crowmatix on Breeze Hill Records fits naturally into the trajectory of his life.
Hurwitz spent his early years studying piano and arrangement in such renowned NYC music programs as Henry Street Settlement, Jazz Mobile, Jazz Interactions and at BAM with alumni of the Count Basie-Ray Charles set. Hurwitz soon found himself immersed in the downtown New York Club scene, performing a potent blend of R&B and Rock-n-Roll before delving deeper into roots-oriented styles performing with THE MIGHTY GOSPEL GIANTS OF BROOKLYN who would be on the same show as "The Blind Boys of Alabama", and "The Brooklyn All Stars" among others.
The forces of Rock-n-Roll soon brought Hurwitz in contact with Rick Danko and Levon Helm who were at the time reforming THE BAND. Professor "Louie" and Garth Hudson began collaborating on various projects throughout the eighties. After spending many fruitful sessions with Hudson in Levon Helm's remote recording studio in Woodstock,NY and NRS recording studios, Professor "Louie" decided to make the move upstate himself. It was there where he and his writing partner "Miss Marie" (Marie Spinosa) came together every Thursday night in Helm's studio with great musicians and formed the group The Crowmatix, to develop the organic, free flowing styles that grace their upcoming Breeze Hill Debut.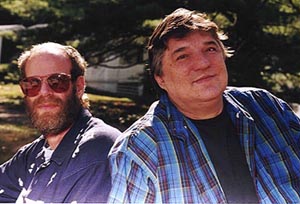 Professor Louie and Rick Danko
Summer 1999
During the 90's, Professor Louie had the distinct honor of co-producing and engineering the three BAND albums "JERICHO", "HIGH ON THE HOG", and "JUBILATION". At the same time he started pairing up with the late Rick Danko for a string of live performances. The two musicians were a natural musical coupling and the shows are legendary among the Danko and Louie "diehards" alike. Professor Louie's release with The Crowmatix comes on the heels of Rick Danko's 1999 Breeze Hill release "Live On Breeze Hill", on which Professor Louie sings, plays and also produced.
---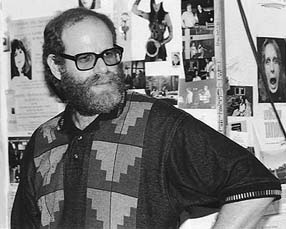 Aaron "Professor Louie" Hurwitz
Copyright ©2000 - All Rights Reserved by Woodstock Records and may not be used without written permission.
---